The Community
Community at Multiple Levels
keyboard_arrow_left keyboard_arrow_right
Community At Every Level
When you live at The Walk at East Village, your front porch is only the beginning of your community. From the minute you step out your front door and venture into your neighborhood, your town, your state – your community grows with you.
keyboard_arrow_down
keyboard_arrow_up
Back to Top
Community starts on your front porch with people who know you and who look out for your safety and well-being.
Imagine an active adult community where you can walk out your front door and greet your neighbors in their garden, where you can walk to your friend's home without having to cross a street, and where you have a common place to gather with your neighbors in a shared space.
People Out Front, Cars In Back
This is the reality of life at The Walk at East Village. Even the placement of the homes is designed to foster community with your neighbors. Our homes are grouped in little front porch communities, or "pocket neighborhoods." Now, that's not just a cute name we came up with for a small community! It actually describes how the homes are placed.
With the roads (and garages!) in the back, the homes face in towards each other, creating a safe courtyard-like area where you can spend time with your neighbors without ever having to sacrifice your privacy.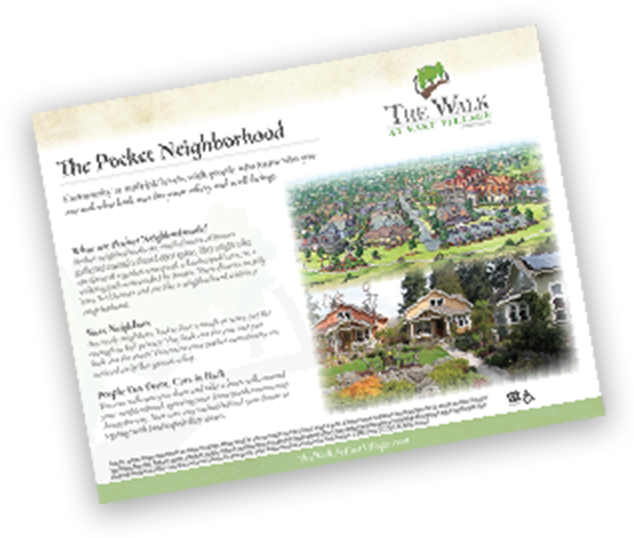 Download Our Pocket Neighborhood Flyer
Imagine.
Your community is a resort. 
Your town is where your friends gather.
Adventure is all around you.
The comfort of your home extends to all of The Walk's amenities. No need to drive to the gym, the pool, or the community center. The Clubhouse is just a stone's throw away from your front doorstep. Meet your friends for a dip in the pool, or join neighbors for a game of billiards or pickleball.
Live On Your Own Terms
The Walk at East Village is about life on your own terms. Whether you're looking for fast-paced living with adventure around every corner, quiet relaxed living, or something in between, the wide range of activities at The Walk allows you to live at your own pace.
Request an Information Packet to Discover More
Experience Everything Clayton Has to Offer
In Clayton, the feeling of Mayberry is alive and well - just updated a bit.
Clayton is a town that truly captures the nostalgia of small town life without having to sacrifice the comforts of big city living. You can easily walk to Downtown Clayton from The Walk, stroll down Main Street, take in the charming architecture, and get to know the local businesses and restaurants.
If you're feeling adventurous, you can explore the Neuse River Trail that runs right through Clayton and wanders through the woods on an easy-to-travel paved path. Clayton is also home to numerous golf courses, so there are plenty of choices when it comes to hitting the green.
The community of Clayton is your extended East Village family. With frequent cultural events, festivals, and local performances, there are plenty of ways to get involved and not just live in Clayton, but really make it your home.  
Raleigh-Durham/Triangle Area
From countryside to city center: Just a short drive away.
Just down the road from Clayton is Raleigh, NC, the state capital of North Carolina. Raleigh is the perfect, slightly wacky, hybrid of science and technology meets the liberal arts. Home to hundreds of unique local restaurants – I mean you've probably at least heard of chicken and waffles, but what about pork belly and waffles? – there's always something new to try.
If you're more interested in sports, Raleigh has a whole array to choose from. It doesn't matter if you're more interested in basketball, hockey, or baseball, we have teams to root for and places to play. And speaking of play, there are over 20 golf courses in Raleigh that accommodate a whole range of skill levels from beginner to pro.
Raleigh is also home to a huge parks system. With a spiderweb of trails that weave all around the city, there are trails to fit everyone's speed. From leisurely strolls to more challenging treks, Raleigh is rich with outdoor adventures.
Nothing could be finer: Open spaces and scenic views from the mountains to the coast.
We may be a little biased, but really, is there a better state to call home? Winter, Spring, Summer or Fall…all of them are beautiful, distinct seasons. We might get one or two snowfalls, but overall the Winters are mild, and the Summers, while a bit hot, provide the perfect weather for lounging out by the pool.
North Carolina is truly a beautiful state. From the mountains to the ocean, there's something here for everyone. Where else can you take a scenic drive down the Blue Ridge Parkway one weekend and then visit historic lighthouses along the coast the next?
There's a reason so many songs are about wishing you were in North Carolina, no matter who you are, there's something to fall in love with.
Download Our Why North Carolina Flyer